The European Automotive Industry
MARKET ACTORS

Below we shall briefly discuss the seven largest actors in the European Automotive indu-stry. This will be done with respect to products, background and current situation Further we will supply a small table of key figures for each company, where such data has been available. As mentioned, we have not been able to obtain the annual reports of Fiat and Renault.

The sources for this chapter are the annual reports, corporate websites and the book "Di-rectory of Multinationals" by John M. Stopford. As mentioned in section 2.5, we have not been able to obtain the annual reports of Renault and Fiat, and thus we have only limited information about those companies.

The table below shows, the development of market shares for the 10 largest companies in the period from 1996 to 1991.

Table 5.1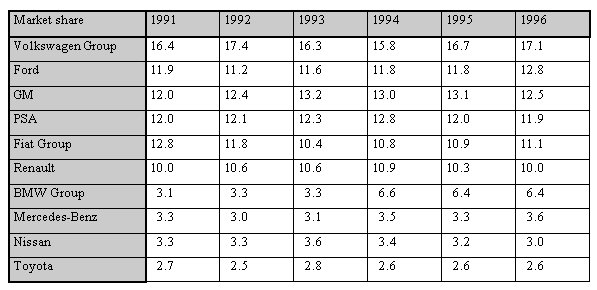 Source: Neil Mullinieux: The new Car Market in Europe; page 12
The VW group produce a broad range of passenger vehicles and a range of light trucks powered by air-cooled, water-cooled and diesel engines. In automobiles, VW itself produ-ces the Polo small hatchback and coupe, the Golf small/medium hatchback and saloon, the Passat medium sized saloon and estate and Sciocco and Corrado sports coupes. In addition the company produces Audis A-range, which covers the top-end of the groups models . In the future the Audi brand will be given a more separate identity through own design, manufacturing and marketing functions. The beetle is still produced in Latin America and there are a variety of minibus derivatives based on the LT van and original. The cars are produced in several locations around the world and total sales in 1997 were over 4,2 million units worldwide. In the European market VW products also include the brands of SEAT and Skoda.
Table 5.2

Source: Neil Mullinieux, The new car market in Europe; p. 7

The Group is also active in national and international finance through its various leasing subsidiaries and the VAG Banks. These provide wholesale and retail loans to customers. Further VW has an interest in car rental through its stake in Europcar International.

Background and Current Situation
VW originated in an association set up by a German government agency in 1937 to ope-rate a savings scheme, through which production of a "people's car" was to be financed. During the War, the production facilities were used for military purposes. Production of the famous "beetle" began in the late 1940s. Cumulative production reached one million units in 1955, 10 million in 1965 and 50 million in 1986. The first foreign subsidiaries were set up in South Africa in 1946, Canada in 1952, Brazil in 1953 and the US in 1955. In 1960 60% of the company's capital held in trust by the government was sold to the public, while 20% each remained with the Federal Government and the Government of Lower Saxony. Dividends accruing to these two parties are paid to the VW Foundation .

In the year 1983 an agreement on technical collaboration was concluded with Nissan Motor CO in Tokyo, under which Nissan would build VW's medium-range Santana in Japan, while 1986 saw the emergence of Shanghai-Volkswagen Automotive Co Ltd to assemble the same model in China. Also in 1986 VW took over the Spanish manufacturer SEAT, which had been building VW models under a co-operation agreement since 1983. This led to production expansion, as a result of the globalisation, and established the group as the fourth largest passenger automobile manufacturer in the world.

In the West European market, the Group attains a competitive advantage due to its custo-mer's brand loyalty, which has helped them to become one of the market leaders.

In 1997 the Volkswagen Group spent approximately 4,4 billion DM on research and development. The Group focuses on the passive vehicle safety, the use of future oriented materials such as magnesium and improved plastics, as well as alternative drive technologies such as electric and hybrid drive systems. The number of the Group employees working in the R&D department increased by 4.2 % to 14,795 in 1996.
Table 5.3: Key figures for VW in 1997

Source: VW annual report
For VW, the German market is very important, as it counts for nearly half its European sales, but sales in Germany have dropped in the last few years.

In the future, VW Group will pursue its aggressive, customer/oriented model policy in all market segments and niches, as well as energetically advancing its brand strategy. The Group will also maintain their globalisation strategy in order to increase its operations in Eastern Europe. As mentioned in chapter 4 the VW group has an extensive collection of new models that will be introduced within the next 5 years.


FORD MOTOR COMPANY

Products
Ford manufactures passenger cars world wide in various price ranges and styles, from European mini-cars such as the Fiesta to American full-sized sedans, as well as light to heavy trucks, related parts and accessories. Automotive operations outside the US are conducted by a number of consolidated subsidiaries, the largest in Germany, the UK, Ca-nada, Spain, Australia, Taiwan and Mexico. In 1990 Ford produced almost 6 million cars and trucks worldwide .

Fords financial service group consists of First Nation-wide Financial Corporation, United States Leasing International Inc., Associates First Capital Corporation, Ford Motor Credit Company and The American Road Insurance Company .

Background and Current Situation
Henry Ford established the company in 1903. Ford is the worlds largest producer of trucks and second largest producer of cars and trucks combined. Ford also engages in automotive related business, such as financing and renting vehicles and production of automotive components and systems.

The company's two principal business segments are Automotive and Financial Services. The activities of the automotive segment consist of the design, manufacture, assembly and sale of cars and trucks and related parts and accessories. Substantially all of Fords auto-motive products are marketed through retail dealerships, most of which are privately owned and financed. The primary activities of the Financial Services segment consist of financing operations, vehicle and equipment leasing and rental operations. These activities are conducted primarily through the company's subsidiaries, Ford Motor Credit Company and The Hertz Corporation

Table 5.4: Key figures for Ford in 1997

Source: Ford annual report
Europe is the largest market for the sale of Ford cars and trucks outside the United States. Great Britain and Germany are the most important markets within Europe, although the South European countries are becoming increasingly significant. Any adverse change in the British or German Market has a significant effect on total automotive profits. Because of Ford's American heritage, it was one of the first manufactures to treat Western Europe as one market rather than separate countries, and has had a presence in Europe almost as long as in North America. Ford became the European leader by the 1980's, and in 1992 Ford had to concede its position to GM and for one year only to Volkswagen. The Ford share of all West European markets is remarkably even - close to 10% in most countries. The exception is the UK market with a market share of 20% and Greece with only 5%. Of the five largest European markets, Ford's weakest position is in France, and even there it has just below 8% of the market.

Having built up its market share from about 15% to over 30% at the high point, Ford has now been losing market share steadily for some years, as a consequence of opening the European markets to competition. A situation in which the market leader often suffers the largest fall.

Ford's model programs are now being developed on a global basis, with USA specialising in large cars and the European operations concentrating on medium and small car devel-opment. In theory this seems to be sensible, but it may make the company less flexible at a time when flexibility is the order of the day. Ford already takes a long time to develop new models and it needs to speed up this process considerably in order to respond to the market (see section 4.3).


FIAT GROUP

Products
Passenger cars and vans are produced under the Fiat, Alfa Romeo, Lancia-Autobianchi, Innocenti and Ferrari names. The company also produces spare parts and accessories for cars. Recent strategy has been to counter falling car sales worldwide by offering an incre-ased range of high-performance and specialist cars.

In the commercial vehicles segment Fiat is represented by the Dutch company Iveco NV, along with affiliates and licensees such as TAM in Yugoslavia, Ashok Leyland in India and Oyotol and Otasan in Turkey, which produce trucks, quarry and construction vehicles, buses, fire engines, diesel engines and forklift trucks.

Further Fiat produces farm and construction equipment as well as metallurgical products.

Background and Current Situation
The Fiat company was set up in 1899 by a group of Turin notables and by 1920 was alre-ady a fully integrated motor manufacturing group. The policy of the group was to produce whatever was not readily available in the Italian market. Between the Wars the group ex-panded its activities to commercial vehicles, aircraft production and rolling stock.

In the early 80's the group began to expand overseas, by acquiring Iveco in Brazil in 1982. Home in Italy Fiat acquired 100% of Alfa Romeo in 1986. In the same year they entered a joint venture with Ford of Britain and Iveco for the manufacture and sale of heavy trucks in the UK. In 1987 Fiat made an agreement for production in Poland of the groups new "micro" vehicle .

Like most of the other actors in the industry, Fiat suffered heavily in the early 90's. However since 1993 the Fiat Group has recovered well, helped by two innovative new models, the Punto and the Brave/Bravo.

At present Fiat has a market share just above 10% of the west European market. Like the other volume car producers it produces models in all the main market segments but it is constrained somewhat by its two sister companies, Alfa Romeo and Lancia. Although these two compete with Fiat, mainly in the upper market segments, they are relatively weak outside Italy .

Fiat attempts to distinguish itself from its competitors by offering cars that are a little bit different with a hint of panache, but close enough to the norm to appeal to a wide market.

Italy accounts for almost half of the company's sales, while the major EU markets Ger-many, France and the UK only accounts for 34% of Fiat's European sales. The sales in the Italian market have been down in previous years, so Fiat is acting to reduce this depen-dence on its home market.

The company is relatively weak in Scandinavia, but it does not hold a strong market posi-tion in any country outside Italy apart from Portugal and Greece. The reason for the we-akness in northern Europe could be the company model profile, which emphasises small cars, while in Northern Europe there is a marked preference for larger cars.

Fiat's share of the market will decline as the Punto and the Brave pass their model peaks. In the longer term it is vulnerable to an opening up of the Italian market which at present is still the most protected in Europe. The most urgent priority for Fiat is to establish a rea-listic marketing strategy and to develop sales outside Italy, especially in Northern Europe.


PSA (PEUGEOT SA)

Products
Automobiles Peugeot manufactures a wide range of cars from the 106 minicar to the executive-class 605, including saloons, hatchbacks and estate cars, both two- and four-wheel drive, with petrol, diesel and turbo-diesel engines, as well as commercial vehicles powered by petrol, diesel and electricity. It has plants in France, Spain and the UK. The group also includes Automobiles CitroŽn, with models ranging from the small AX hatchback to the executive-class XM, as well as commercial vehicles. CitroŽn manufactures in France, Spain and Portugal. Unit sales for the PSA Group totalled approximately 1,5 million passenger cars 1996. The PSA group also includes its Mechani-cal engineering service and financial services.
Table 5.6: PSA Europe

Source: Neil Mullinieux, The new car market in Europe; p. 7

Background and Current situation
The present company was formed in 1976 to merge two long-established French car pro-ducers. Peugeot dates back to the Peugeot family business in Montbeliard where bicycle and tricycle production was followed by automobile production in the early 1890's. In the1920's the company began producing its first complete model range, the 01 series, followed by the 02 in the 1930's and the 03 in the late 1940's. The 04 in the 1960's and the 05 in the 1977 and the 106 launched in 1991.

After World War II Peugeot began expanding abroad. The largest production facility was set up in Argentina, while a large number of assembly operations started in Africa, Southeast Asia, Australia, New Zealand, Spain and Portugal.

CitroŽn also originated as a family business. The company was initiated by Andre CitroŽn in 1924 and grew to be the third largest car producer in France. The largest subsidiary was set up in Spain as well as important operations in Argentina, Belgium and Eastern Europe.

In 1974 Peugeot and CitroŽn decided to co-operate at the instigation of the French government, which was intent on rationalising the French automobile industry. This led to Peugeot taking over CitroŽn in 1975 .

In 1988 Peugeot, Suzuki of Japan and Austin Rover formed Peugeot cars in Japan. PSA became the world's leading manufacturer of diesel engines in 1988 and launched a wide range of new diesel-engine versions of Peugeot 405 and CitroŽn BX.

In 1990 PSA teamed up with RZB Austria to establish an Austrian bank to offer finance to dealers and customers, and a dealer network of over 230 outlets for Peugeot and Ci-troŽn combined was built in East Germany. CitroŽn Japan was set up in partnership with Mazda and Seibu to build sales in Japan, and Automobiles Peugeot increased it stake in Peugeot Japan to 67%. In December of the same year CitroŽn signed a joint venture with China's Second Automobile Works for production of the ZX model in China .

Peugeot shares design and engineering resources with CitroŽn but keeps its sales and mar-keting operations distinct. The Peugeot product is aimed more at mass market than Ci-troŽn. The engineering is more conservative and the design is aimed at the average moto-rist. Despite this clear differentiation between the two companies, the group as a whole has gradually lost market share in recent years, particularly Peugeot. CitroŽn, although the smaller of the companies, has managed to retain its market share. One of the reasons for this is that both companies are heavily dependent on their home market.

Today PSA is Europe's third largest car manufacturer, and Europe's leading manufacturer of light commercial vehicles. In addition to its two core car manufacturers, Automobiles Peugeot and Automobiles CitroŽn, PSA also active in a number of businesses strategically related to the automobile industry.

In 1996, PSA intensified its three-pronged strategy of, 1) updating and enhancing two comprehensive lines of products and services that respond to customer expectations. 2) accelerating cost-reduction programs, and 3) pursuing international expansion while maintaining margin integrity. As part of this strategy, several new models will be introdu-ced during the next years .

Table 5.7: Key figures for PSA in 1996

Source: PSA annual report
Today PSA is Europe's third largest car manufacturer, and Europe's leading manufacturer of light commercial vehicles. In addition to its two core car manufacturers, Automobiles Peugeot and Automobiles CitroŽn, PSA also active in a number of businesses strategically related to the automobile industry.

In 1996, PSA intensified its three-pronged strategy of, 1) updating and enhancing two comprehensive lines of products and services that respond to customer expectations. 2) accelerating cost-reduction programs, and 3) pursuing international expansion while maintaining margin integrity. As part of this strategy, several new models will be introdu-ced during the next years .


GENERAL MOTORS CORPORATION (GM)

Products
GM's automotive department consist of the manufacture, assembly and sale of automobi-les, trucks, buses and related parts and accessories. In 1990 GM held just over 35% of both the US car and light truck market, with worldwide sales of 7,451,000 units. Product lines include Saturn, Chevrolet, Pontiac, Oldsmobile, Buick, Cadillac and GMC Trucks in the domestic market, Opel in continental Europe and Vauxhall in the UK.

Further GM has a number of finance and insurance activities. These activities are carried on by GMAC (General Motors Acceptance Corporation) and its subsidiaries, as well as by other subsidiaries of General Motors .

Background and current situation
William C. Durant formed general Motors in 1908, to take over the assets of the failing Buick Motor Company, Oldsmobile as well as the Oakland and Cadillac companies. From the beginning the company's strategy was three-pronged: 1) to produce a variety of cars to suit a variety of tastes and purchasing powers 2) to diversify as widely as possible in automotive engineering 3) and to integrate backwards into the manufacture of compo-nents .

In 1983 GM entered an agreement with Toyota for the production of a small Chevrolet. GM Fanuc Robotics Corp, a joint venture between GM and its subsidiary GM Hughes Electronics, set up in 1982, is the largest manufacturer of robots in the US. GM also has joint ventures with Daewoo and Isuzu.

In mid-1986 the company began a programme of cost-cutting, staff reduction and capacity maximisation in an effort to enhance competitiveness in the face of increasingly sophisti-cated Japanese imports . One aim was for fewer and better model lines. 1987 and 1988 marked a period when a large number of new models was introduced, again to try to im-prove GM's competitive position.

As the world's largest carmaker General Motors had long resented its secondary position in the European market, and it finally achieved market leadership in 1992 and then con-solidated its position. GM has been present in Europe since early this century, and as an American manufacturer it has not concentrated on a single domestic market, but has de-veloped a good spread across the continent. However, it does have a particular sales con-centration in Germany and UK, which accounts for over 55% of the company's European Sales. The other large markets, France, Italy and Spain, also play a significant part in total sales. GM is also the market leader in Netherlands and Switzerland. The weakest market is Sweden where it commands only 6.7% of the market.

Table5.8: Key figures for GM in 1996

Source: GM annual report
GM's design policy is flexible, as it does not centralise its model designs worldwide. Each region will take responsibility for its major models, though there are far more collaborati-on than earlier, in order to make use of common parts .


BMW (BAYERISCHE MOTOREN WERKE) GROUP

Products
The BMW range of cars consists of the 3 Series medium-sized and two-and four-door saloons and estate cars, the 7 Series luxury saloons and long-wheelbase saloons, the 8 Series coupes and the Z1 sports car. Cars are also produced under the Rover name. The division also includes the BMW Motoren GmbH engine plant in Austria that, together with BMW Austria GmbH, makes BMW one of the 10 largest industrial companies in Austria. BMW Motorsport GmbH is involved in motor sport with cars based on existing models, as well as developing and producing the high-performance cars and engines of the M series. BMW Technik GmbH is an independent subsidiary developing system solu-tions in all fields of automotive engineering, including component and prototype devel-opment . Further the BMW Group produces motorcycle products.

BMW was founded in 1916 as Bayerische Flugzeugwerke AG to make aircraft engines. The company begun producing motorcycles in 1923 and became a leader in this field by the 1930's. In the late 1920's, BMW acquired a license for air-cooled aircraft engines from Pratt & Whitney, and a car factory in Eisenach. In the early 1950's, BMW started car production, making the first eight-cylinder car and mini-cars. Car production developed steadily to eclipse motor bikes and aircraft engines, which it stopped making in 1965. In 1967, BMW took over Hans Glas GmbH, a maker of mini-cars. Since then, the company has steadily increased the size of its cars and now all its models are in the medium and full-size range. Export is highly important for the company, as 63% of sales are outside Europe. Thus subsidiary companies are established in 14 of the most important foreign markets

Table 5.9: Key figures for BMW in 1996

Source: PSA annual report
BMW is one of the few western car producers to have realised profits consistently over the past two decades. In spite of this long period of success in car and motorcycle manu-facture, BMW entered a period of development in 1990. After 26 years out of the aircraft engine business, BMW and Rolls Royce set up BMW Rolls Royce GmbH, a 50.5/49.5 joint venture, in July 1990 .

Today BMW has evolved into one of the most admired companies in the Industry. While Mercedes-Benz is perceived as a provider of prestige transport for chairmen and ambas-sadors, BMW has carved out a reputation for slightly smaller but more interesting ve-hicles. Cars for the up-and-coming executive, rather than for the one that has already arri-ved .

BMW sells many of its cars in the German Market, but it has a good sales distribution over all European markets. In terms of size, the UK is the second largest market, followed by France and Italy. In terms of Market share BMW is strongest in Germany with 6.5% of the market, followed by Luxembourg, Belgium and Switzerland. It is weak in some of the Nordic countries, but it has least a 1 percent share in every European Mar-ket.


RENAULT
The French State has owned Renault for many years, and although it is now privatised, it is still expected by some to act as an arm of the state. Renault is a larger manufacturer than Peugeot or CitroŽn individually and it has shown innovative flair over the years by producing vehicle concepts and it has led model trends within the industry.

The company controls a 10% share of the European market, which is a decline in recent years but the same as in 1990. However, in 1996 its sales only grew by 3.5%, much lower than the market growth. As the French market, where Renault is the market leader, grew by 10%, this was a very disappointing performance. France accounts for 45% of Re-nault's sales in Europe.

The company has a substantial presence in Germany, as it is its next largest market. In both Italy and the UK, Renault has a 6% market share.

The company has attempted to shift towards larger, higher margin cars. Despite of this, Renault faces a number of difficulties in the next decade, particularly its reliance on the French market and its high cost base. As the influence of the French government wanes it will become much more its own master, and it will probably explore ways of co-operating with other manufacturers. It has already had discussions with Skoda, Chrysler and Volvo, so it is making no secret of its desire for alliances .

If it cannot find a partner, its best strategy would be to build on its design strengths and introduce niche models derived from its mainstream products.


SECTION SUMMARY
In this chapter we have briefly described the seven largest actors in the European market, with respect to products, history and current situation. The market actors will be used again in the next section, when discussing strategic groups and segmentation.

---
Nadarasa Subramaniam 1999, Copyright .